One cannot just backpack and go on to do Manaslu Circuit Trek. Manaslu is a restricted area and also falls under Manaslu Conservation Area Project. Many permits are required. It is also a remote area where the teahouse trekking became possible only recently.
So, if you are planning to do Manaslu Circuit Trek, there are a few things you should know. One should always know a few things about their travel destination.
When is the best time to do Manaslu Circuit Trek?
Spring that lasts from March to May or autumn, which is from September to November, is the best time to do Manaslu Circuit Trek. The sky will be clear and the temperature will be just right, perfect conditions for trekking.
The last week of November might be a little too cold and a little too late though. The locals at the higher altitude may already have packed up and left for somewhere warmer. This means no lodging.
Later days of May is also not a very good time as the views can get a little hazy. Also, it gets hot at the lower regions.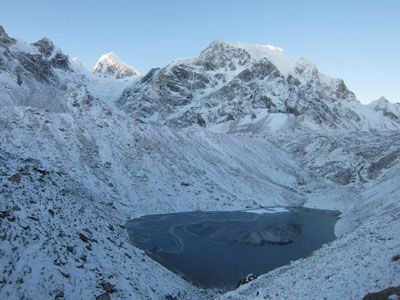 Trekking to Manaslu in winter and monsoon is a bad idea. Monsoon clouds will rain down on you and/ or block all the beautiful scenes. Winter will be too cold, dangerous and will require camping.
What Permits are required to do Manaslu Circuit Trek?
Manaslu is a restricted area. Therefore, you will need a Restricted Area Permit. For Manaslu region, the restricted area permit costs about $70 for one week. Additional days cost $10 per day.
Restricted Area Permit costs less during off season. It can drop down to $50 for a week and $7 for every extra day.
You will also need Manaslu and Annapurna Conservation Area Project (MCAP & ACAP) permits. They cost Nrs.2000 each.
The TIMS (Trekkers' Information Management System) Card is not required for restricted areas. It is required to trek to other regions of Nepal.
What are the rules and regulation I should know of when trekking to Manaslu?
Few rules and regulation that one should know are:
No solo trekking. There should be at least two trekkers. Else, you will be sent back.
You must be assisted by a registered/ licensed guide. This means, a group of minimum three people.
If you do not have the required permits, you could be asked to turn back. Permits that can be bought at checkpoints will cost you double the actual amount.
Checkpoints are in Jagat and Dharapani. They are check in and check out posts respectively.
You need to start the process about 12-15 days ahead.
What should I Pack for Manaslu Circuit Trek?
Following are some important things to pack for this trek.
A pair of well-worn comfortable shoes.
A down jacket
A light weight sleeping bag
At least a pair of socks and gloves for warmth
Others
Trekking poles (Larkya La Pass is steep, both ascent and descent)
Sunscreen, shades and moisturizers for harsh sun and wind
A normal first aid kit with medicine for Acute Mountain Sickness (AMS)
A torch light (head torch would be make things easier)
Toilet paper, hand sanitizer and water purifier
Some Tips for Manaslu Circuit Trekking
Manaslu is a developing community. Please take care of your health and hygiene. Use hand sanitizer and bring your own toilet paper. Bringing water purifier will be cheap, healthy and ecological.
AMS can kill. Please take time to acclimatize properly. Do not try to push yourself. Listen to your body and research on prevention and cure for AMS before setting out.
Do not try to take along a ghost trekker. Sometimes, people wanting to trek alone pay for the permits of one more person. This requires an authentic passport. This is wrong and will all be for nothing if you have to return because of the absence of that other person.
Please respect the local culture and religion. Dress modestly. Absolutely refrain from public display of affection. Temples and monasteries are circled clockwise. Do not step over someone or anything sacred.
Conclusion
Manaslu Circuit Trek is one of the best treks in Nepal. Permits and requirements of Manaslu Circuit Trek might seem like a hassle. Many people who want to travel solo are not happy about this. But this is for the preservation of the natural and cultural heritage of Manaslu region. And the beautiful green valleys, pristine lakes and the majestic Himalayas are well worth all this trouble.