It's the middle of vacation season and many people out there will have their trips planned for summer – but do they have the right luggage? When you go away on any sort of trip it's essential to have luggage that you can trust and rely on. Your bags and cases need to perform. If they don't, chances are you'll run into trouble along the way – and create a lot of unnecessary and unwanted stress. It's not worth compromising a relaxing trip away. Do some research and get hold of some top quality carry on luggage, the best that your budget permits.
Something old
If you're looking for that old/classic look consider something with a vintage vibe. This way you get the best of both worlds, a suitcase that looks like it's from a bygone era – but one that performs as well as any other. Don't just go out and buy some trendy old trunk from a vintage store because it looks the part, that's asking for trouble. Rimowa's Salsa Air looks it's just come off a Pan Am flight in the 1950s. But this case doesn't just look good, it's Rimowa's lightest polycarbonate case and has an almost indestructible shell.

Something new
Motorsport innovation and development works its way down into consumer vehicles and products at a rapid rate. Renowned luggage producer Tumi secured the exclusive worldwide rights to Tegris (a revolutionary polypropylene material) for use in travel and accessory products. Tegris is lightweight, stiff and impact resistant… and it looks fantastic! The material has been used in lifesaving armor, NASCAR race cars and protective gear for NFL players. Tumi's Tegra-Lite Collection utilizes the impressive characteristics of Tegris – it's some of the best carry on luggage around and is available in various sizes.

Something borrowed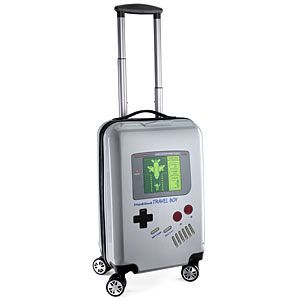 Borrowing its design from the old school Game Boy, Travel Boy Carry on Luggage looks like an oversized version of the classic Nintendo handheld games system. And the designers at Think Geek have sized this carry on to perfection, it fits within the current restrictions for most major airlines. If you're a fan of retro gaming you're going to love Travel Boy Carry on Luggage.
Something blue
When you buy a suitcase that looks as good as the Samosnite Graviton you need it to last. It's a good job that it doesn't just look like it's built to last. This polycarbonate suitcase delivers strength, flexibility, lightness and impressive durability. A double wheel system with suspension ensures that the case can handle all sorts of bumps and impacts. With the chequer plate design, like a piece of metal, Samsonite's Graviton is perfect for any guy who likes that tough industrial look.
Having a reliable suitcase by your side will allow you to focus on the important part of your vacation, relaxing and having a good time! Kit yourself out with some carry on luggage (that's up to the task) and enjoy that welcome downtime.